Full bridges are used to provide a complete solution for missing teeth across the patient's entire arch. Helping your patient decide between a full implant bridge and a full traditional bridge comes down to ensuring that they fully understand each option.
Identifying the Issue
When choosing between an implant bridge and a traditional bridge, it is
important that your patient understands the pro's and con's
of each treatment method, as well as how they can benefit from the treatment as a whole.
Many people are familiar with the terms implant and bridge, but aren't quite sure what they are. Most people form a
general idea
of what these treatment options are based upon things they see in movies, television, and social media.
As your patient's trusted dentist, it is important that you ensure your patient knows
exactly what their treatment entails
.
Identifying the Differences
Full bridges are used in the case that the patient wishes to avoid dentures, but needs to replace the entirety of the teeth on one arch or another. The treatment that is right for them is dependent on a few different things, but it's important that your patient understands the key differences before they move forward with treatment.
During your treatment plan presentation, be sure that your patient is
aware of the following:
Implant bridges are typically more expensive than traditional bridges.
Implants are not typically covered by insurance, but traditional bridges may be partially or fully covered, depending on the patient's insurance plan.
A traditional full bridge requires the presence of healthy anchor teeth in the mouth, while an implant bridge does not.
The process of completing an implant bridge may be a bit more lengthy to allow time for the implants to fully heal.
Implant placement is more invasive, but implants have the potential to last a lifetime with proper care and bone structure.
While of course these are not the only things that you will need to discuss with your patient, these are
key points
that will help them decide between the two methods.
How Can
DentiCalc

Help?

DentiCalc is a cutting-edge application that was

designed to close the communication gap

between patients and dental professionals by providing

informative and easy-to-understand visual aids

for treatment plan presentations.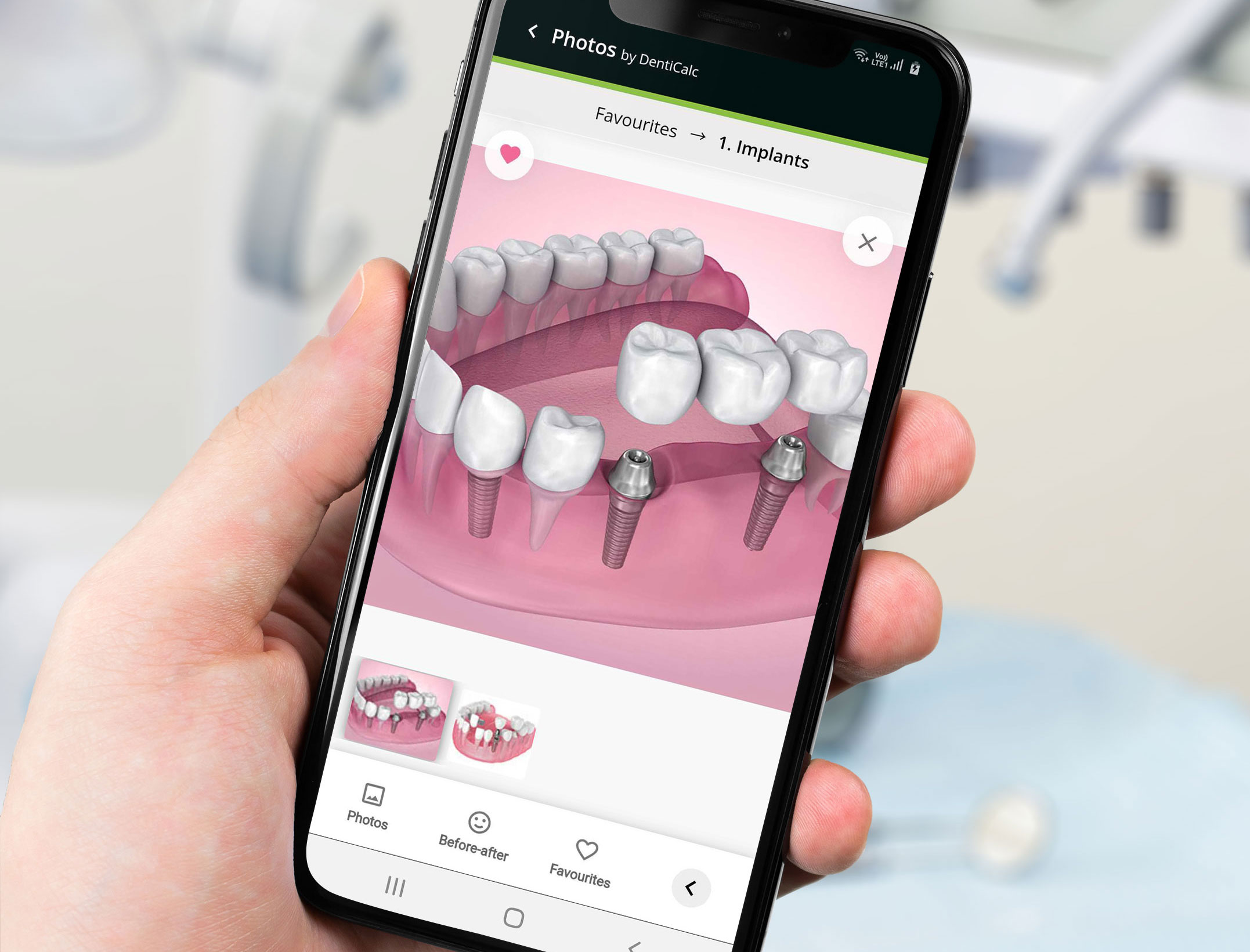 Photo by DentiCalc
The application can easily and quickly be downloaded onto any mobile device or tablet. Once it has been downloaded, you will gain access to DentiCalc's
large library of videos, animations, and diagrams
that provide intelligent visual descriptions of popular treatment methods.
To better explain the differences between full implant bridges and full traditional bridges, you can easily access our videos covering these treatment methods on DentiCalc. The videos
clearly and effortlessly explain
the treatment, providing invaluable information to your patient that will help them feel more confident in not only their treatment, but in you as their trusted dental professional, as well.