Sinus augmentations, commonly known as sinus lifts, can be extremely beneficial to the patient. In order to ensure that your patient understands how they can benefit from this treatment and why they need it, it's important that they fully understand both of the options for sinus augmentations. Here's how DentiCalc can help.
Identifying the Issue
For many people, the term "
sinus augmentation
" may invoke some nervousness or fear, which may ultimately cause the patient to choose the wrong treatment option or even avoid committing to treatment altogether.
As sinus augmentations are
a bit more invasive than other treatment methods
and are not as commonly-known as other dental procedures, it is not uncommon for patients to develop misconceptions or apprehension about their proposed treatment plan, or to blindly choose their treatment method.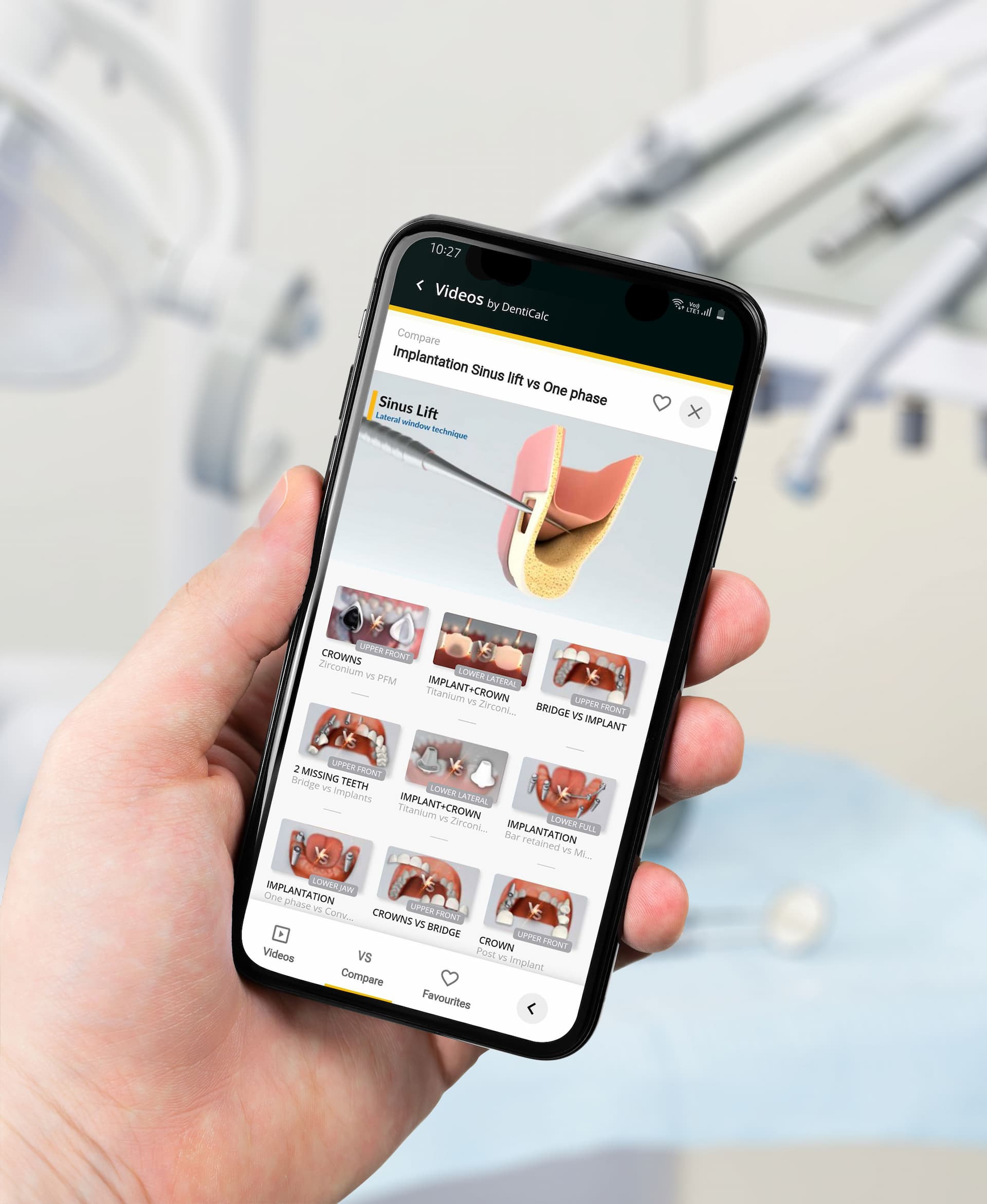 This is usually due to a simple lack of knowledge that can easily be corrected with professional guidance and reassurance from yourself as their trusted dental professional.
Identifying the Differences between Treatment Methods
Before explaining the differences
between traditional sinus augmentation and the lateral window technique, it's important that your patient understands why they need a sinus augmentation.
In most cases, sinus augmentations are done in order to raise the sinus floor and encourage bone development in order to prepare for the successful placement of an implant in the back of the mouth. Explaining this to your patient will help them gather a good idea of exactly how the treatment will benefit them.
Next, take the time to explain the differences between traditional sinus augmentation methods and the
lateral window technique
, using points such as:
During a traditional sinus augmentation, the sinus cavity is approached from directly below. The sinus membrane is lifted and bone graft material is placed immediately to fill the new space. The area is then closed and allowed time to heal.
During a sinus augmentation using the lateral window technique, a "window" is made on the lateral wall to allow easy access. The membrane is lifted through this window and grating material is then placed. The window is then closed off, and the area is given time to heal.
Of course, for someone with no professional dental training, this may at first sound a bit confusing, even with a thorough verbal explanation. That's where DentiCalc comes in.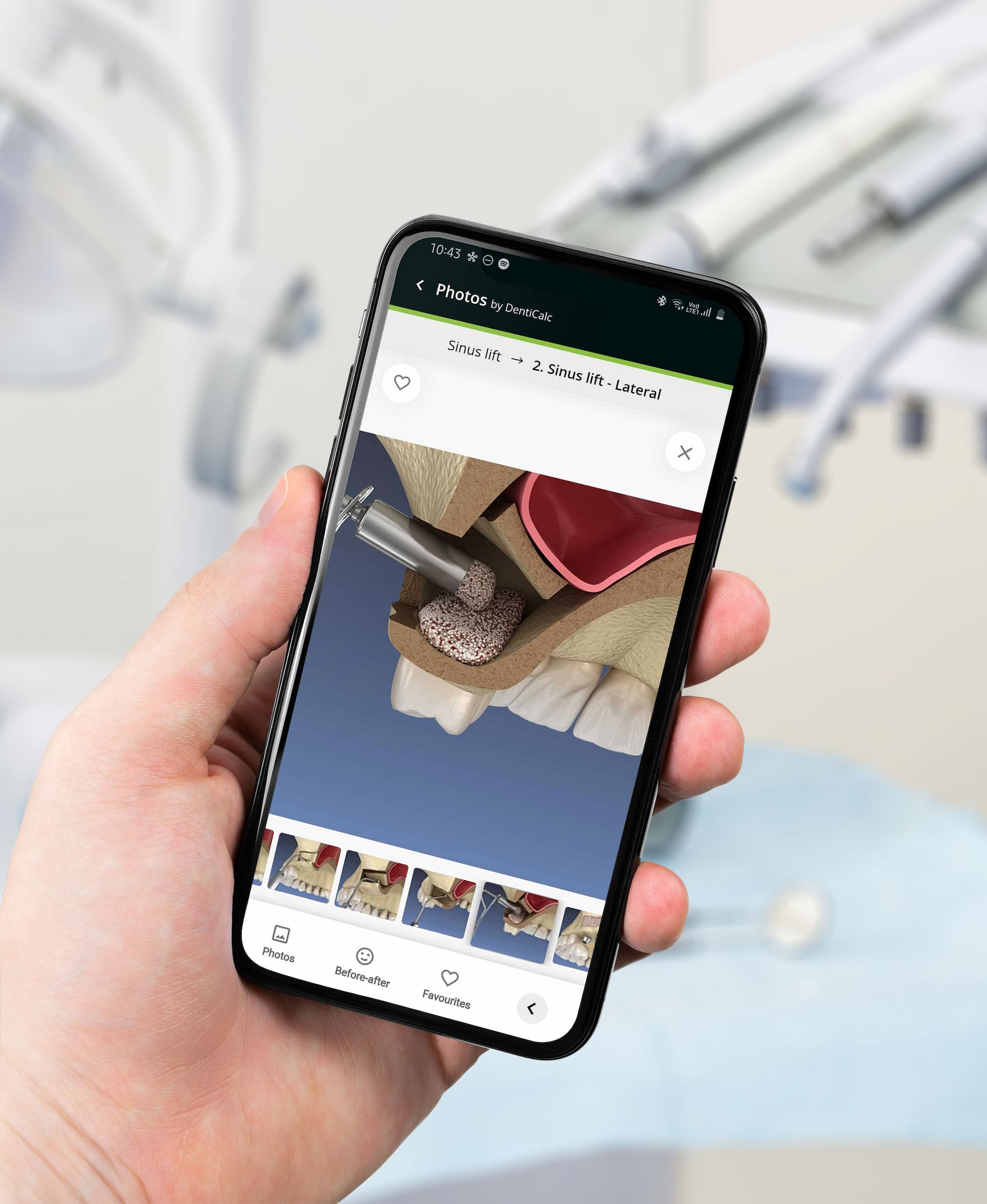 How Can DentiCalc Help?
DentiCalc is an innovative app designed especially for use by dentists chairside.
Our revolutionary application is loaded with
informational videos, animations, and diagrams
that you can use during your treatment plan presentation in order to provide visual aids for the treatment that you are explaining.
Upon downloading the DentiCalc application to your mobile device or tablet, you will have immediate access to our complete library of educational and cutting-edge resources. Simply pull up the DentiCalc app while you are discussing treatment with your patient and show them the visual aids of your choice; it's that simple.
To explain the differences between these two methods for sinus augmentations, you can make use of DentiCalc's informative and easy-to-understand videos covering each method. With the use of these videos, you will be able to show your patient the differences between the two treatment options while explaining, giving your patients a complete understanding of what they can expect during treatment.
Download the app today and empower every consultation with professionalism, expertise, and confidence.